Hello, folks! You might remember - if you've been following this blog for a while - that four years ago I did The 100 Poem Challenge, writing 100 poems in 48 hours to raise money for charity. Well, I'm doing it again - but this time for a different charity and I'd love your support :)
On 6th-7th October 2015 I'm going to be writing 100 poems in 48 hours to raise money for
The Book Bus
, a wonderful charity that sends mobile libraries to communities in various places across Africa, Asia and South America to help children learn to read, provide teaching materials and create school libraries.
On the 6th-7th I'll be posting the poems on
http://100poemchallenge.blogspot.com
as I write them. Before then, if you'd like to, please
tweet me
tag words using the hashtag #100PoemChallenge - I'll use some of these as titles of poems or to spark off ideas when the time comes.
I've set up an
Indiegogo page over here
to accept donations. Any amount that you could donate would be very much appreciated: £1, £2, whatever you can spare. I've set the goal at £1000 but I would love to raise as much money as possible - as I'm sure you'll agree: stories are a huge part of what makes us who we are, and reading is a skill that should be available to every child.
There are also two perks that you can purchase: a handwritten poem on a postcard at £5 (I'll be handwriting each of the 100 poems on postcards after the event) and a limited edition poetry pamphlet of all of the poems for £10. Both of these can be shipped to anywhere in the world. All proceeds go to The Book Bus.
About The Book Bus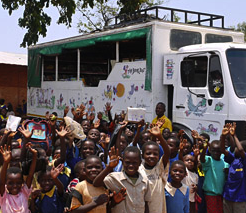 See recent amazing activity from The Book Bus on their
Facebook
and
Twitter
& from their website:

The Book Bus supports schools by providing mobile library facilities and volunteer story-tellers to help children become confident and literate readers for life. Working mainly with rural schools in Zambia, Malawi, India and Ecuador, our volunteer crew divide huge classes into small groups and inspire the children to read by personalizing the reading experience through story-telling, assisted reading practice and creative arts. This simple and effective support is sustained by provision of books and resources to each school library. Each Book Bus and its volunteer crew supports a cluster of five schools for up to three months. We make weekly visits to these schools working with up to 800 children from the cluster. The project finishes with an end of term party and opening of a new school library.
Registered Charity No: 1117357

Any money you feel you can donate would be very much appreciated - thank you xxxxxx